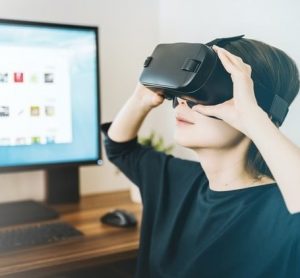 From this point in time, it is amazing to see how far technology has progressed. There are things today that we consider quite normal, but which could not have been imagined a hundred years ago. Not only can we access every last bit of human knowledge through a little brick we keep in our pockets (without any kind of wire), but we can also communicate in a realm that is different from the one we live in – in the online world. As if that was not easy enough, to begin with, we went another step forward into the future and created devices that help us access a different reality from our own. This is what VR enables us to do.
How VR works?
Virtual reality, also known as VR, is usually presented in the form of a headset that users put on in order to block out any input from the real world, and enter the virtual environment that is presented. The picture on the inside of the headset is shaped in a way that makes it appear as realistic as possible, that is as if the user is in real life. There are countless applications for virtual reality, but one that might be overlooked is cycling. How can virtual reality be applied to riding a bike?
Training
Riding a bicycle greatly depends on the weather, and not all parts of the world are blessed with good weather conditions. Sometimes, the riding has to take place inside, and virtual reality can help with providing a lifelike environment for training indoors. Moreover, sometimes the track and the landscape where the race will be held are not well-known to the riders. VR can help with that, as it allows the players to explore the place where the race will be held and get to know all the tricky bits the track has. This makes their training and preparations for the race more effective and maximizes their chances of winning.
Lockdown exercises
One of the biggest problems that the people in the world are facing today is the lockdown due to the global pandemic. Sometimes it is difficult to stay fit, and exercising in a room cannot motivate everyone. However, if you have a room bike, all you need is a VR headset, and you could see yourself riding over the Alps, or exploring the California Valley. Virtual reality can also be employed in these situations to simulate real surroundings and relax the rider until they are safe to really go outside and exercise. This is not only beneficial for people's physical health but also their mental health and it could become the next big trend around the world when it comes to lockdown exercising.