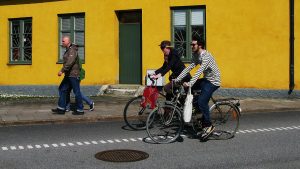 The world of cycling had considerable problems with its image after the big turmoil that was caused by Lance Armstrong's doping scandal. The whole cult built around his personality was dispersed after the news of his abuse of substances, which led to the crisis where the position of the cycling role model was left empty. However, now there a few suitable candidates that can pick this position and promote both cycling and positive life values to the whole world. These are the people who promote healthy life and good values, always looking to improve themselves, thus setting a great example.
One of the most respected members of the cycling community is Nairo Alexander Quintana Rojas, who is at the moment in the Movistar team. His success in cycling is huge – he won two out of three Grand Tours, and several classifications across all three, with many stage races. But where he really shines is his dedication to helping and improving the society! His biggest efforts go to promoting gender equality and helping women in Colombia. He learned his greatest lesson when he was fifteen – he was hit by a car and he ended up in a coma for several days. However, his father always believed in his cycling potential and he helped him succeed by investing in him and helping him along the way. That is why Quintana is so ardent in his efforts to help others now he is in such a position. He is also creating positive health and body images, with his stamina and dedication to healthy diet.
Another potential role model could be the big star of cycling, the UK's Chris Froome. This Vuelta and Tour de France winner has been very outspoken against doping and drug use. Even though he was accused for using different substances to improve his performance, Froome never fell under any doubt, with the exception of the 2017 case where he had to take medicine for his asthma problem. However, he was cleared of any guilt in that case. He was even made an officer of the Order of the British Empire due to his excellence in cycling. But his greatest activist achievement is in the position of the ambassador of the United for Wildlife conservation project, which is aiming to save many endangered animals. On several occasions, he put stickers of endangered animals such as rhinos on his bikes and tried to raise awareness of the problems surrounding endemic species. If this isn't enough to convince you, Froome, who was born in South Africa, participated in the race #United4Mandela which celebrated Mandela's social activism in that country.