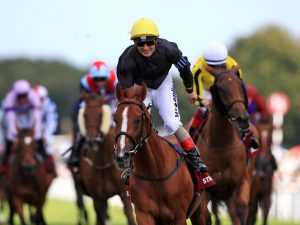 Horse racing events attract massive crowds in many places in the world. People who love horses, people who admire the adrenaline-driven races and folks who love betting on horse racing – all of them gather together on completely packed racetracks, or as some call it "hippodromes". As the largest interest for horse racing is in the USA, most of the legendary races take place on American racetracks, but there are also some international hippodromes that are a must for every horse racing fan.
This amazing race will in five years turn 150 years old! The tradition and history that go into the making of this race testify to its importance. Since the track is around two kilometers long, the race finishes under two minutes if everything goes well. Incredible amount of adrenaline is packed into those minutes, especially considering the hefty sum waiting for the winner – $1.5 million. This race is the second most visited in the USA, and trails only behind the famous Kentucky Derby.
Kentucky Derby
The most popular American horse race event is also among the world's most popular races. It's only two years younger than the Preakness Stakes, but it compensates for it with crazy popularity. With similar length and average time, many people wonder why Kentucky Derby remains very popular in comparison to the Preakness Stakes. The answer is – because history and records were created here. Kentucky Derby is very well-known also because of Secretariat, the famous racing horse who did well on Kentucky Derby.
The oldest horse race in the world is Klipincotes Derby, but the most famous old race is the Royal Ascot. This horse race is more than three centuries old and boasts over 7 million dollars in prize money. Needless to say, it is also one of the most formal races in the world, being one of the first races in British history. It is very interesting to see this race since the dress code is very strict and formal – and there is a large change you would see royalty there. This is really an event that should not be missed!
Nakayama Grand Jump
If we decide to move to the other part of the world, we could still enjoy in great races, as is shown by Nakayama Grand Jump race in Japan. The most prestigious race in Japan is also considered to be one of the trickiest for the jockeys and horses, as it features different sharp turns and twists, and of course, jumps from which it derives its name. The best racer ends with a large sum of 1.7 million dollars, so it is no wonder they give it their all.
Dubai World Cup
Since we are talking about generous competitions, it would not be fair not to mention Dubai World Cup, established in 1996. The award which is reserved for the best is astounding ten million dollars – a sum outclassed only by the newly founded Pegasus Cup in 2017. Until recently, it could boast with the title of the most generous race, but it still can show off by its impressing hippodrome called Meydan Racecourse. Biggest faces not only in horse racing, but also politics and culture, attend this race and the gala event that follows after it in March.