Riding a bike brings great benefits to your health and stamina, but if you are interested in doing it professionally and not just for fun, then you need to pick the right bike for you very carefully. There are many things you should think about, so here is a simplified list that can make it easier with several suggestions from us.
This bike is less than a year old, but it will prove difficult to beat for a long time. This Trek Emonda is special because of its carefully measured weight. Every cyclist knows it is one of the most important things to pay attention to, but here it is even more impressive because of the Trek-Segafredo's added mechanics. This bike will definitely be used by the winners of big races in this year. One of the best features of this bike is that it has fast reaction time, and it will allow for great maneuvers. For great performances, chose this bike, but be ready to pay extra!
Pinarello Dogma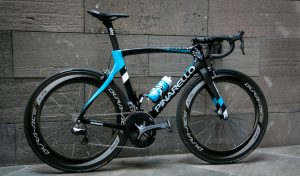 If you are looking for a bike that is light and all-around in terms of control and handling, choose Dogma without any doubt! It was driven by Chris Foome on Tour de France – and this testifies to the quality of this bicycle. It has dual-sided power meters – and sleek design that puts it above all others in the visual aspect. The weight frame is incredible – barely going over 800 grams! The new version – F10 – will definitely be a prominent bike this year.
S-Works Tarmac Ultralight
This is the newest version of Specialized Tarmac and it comes with outstanding Roval wheels of 50 millimeters. Additionally, it packs ultralight frame with futuristic design which improves aerodynamics significantly. The new Tarmac boasts special fork design and black and orange color scheme which works perfectly. The good thing is that this bike will be available somewhere south of two thousand Euros, even with all the latest improvements.
The first sign of the new identity that the Canyon Speedmax is promoting is the change in the color and paintjob. Darkish blue and black colors dominate the mystical and powerful design of the new Canyon Speedmax. If there was ever a perfect bike – this is the one, but the price reflects it quite well. The geometry of the bike is out of this world – it even features the adjustable rake that allows for greater adjustments than ever! Improved aerodynamics will boost the performance to the max and allow for amazing time on the racing track!
Cervélo S5
Another serious contender for this year's winners favorite is Cervelo S5 which now, more than ever, puts focus on speed improvement. It guarantees increase in speed on road, through the combination of many step-by-step improvements across the frame. It is a bike that will not betray you on this field, but that does not mean it fell behind in the visual segment: it offers a wide array of color schemes, with black and red being the crowd's favorite.